April 28 – May 2, 2016:  This weekend in San Juan, Puerto Rico was an amazing time and I can't wait to go back.  Honestly, going back to Puerto Rico is higher on my future travel list than going somewhere new.  The beaches, the food, the people, the colors, the history, the diversity!  If you haven't already, you really must go.  It's a world of it's own and if you're lucky enough to live in the States, you don't even need a passport to see it.
7 Reasons why #PuertoRico should be your next #vacation stop https://t.co/Md95PPcIF8 pic.twitter.com/KGY4XWiomO

— Direct Source Wealth (@DSWCashFlow) September 29, 2016
Thank you for taking the time to look at this article.  We have made it easy to  save or share this article.  Click on any of the share buttons on the left, hover over any photo to save to Pinterest, or upload the photo below to Instagram or elsewhere.  🙂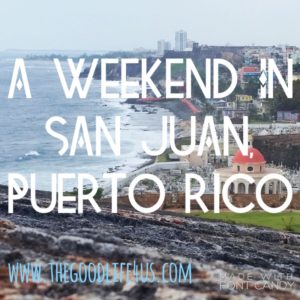 Marcy Vogler is a mother to three boys and is passionate about sharing ideas, products, and books that have changed her life.  Click here to learn more about Marcy and check out more of her writing at www.thegoodlife4us.com.
(Visited 575 times, 2 visits today)