Recipe for Quick Shrimp Scampi with Broccoli and Angel Hair Pasta
1 lb Shrimp (recommend easy-peel or already peeled and deveined)
4 T butter
4 T olive oil
2 garlic cloves, minced
2-4 T fresh lemon juice
Salt and pepper to taste
1 or 2 T minced parsley (just mince with scissors) – optional
1/2 Package Angel Hair Pasta
1/2 Head Broccoli, just the florets
Get one pot of water boiling for both the pasta and broccoli.
Wash the shrimp and remove "legs" and shells. If necessary, devein shrimp, and rinse.
Melt butter in a skillet over medium heat. Add olive oil.
Cook angel hair pasta and broccoli together for 3 minutes or according to package directions.
Stir garlic into melted butter in skillet and sauté for 1 minute.
Add shrimp. Saute until pink (Only a few minutes per side).
Pour lemon juice over shrimp and sprinkle with salt and pepper.
Drain pasta and broccoli and serve on plates.
With a slotted spoon, remove the shrimp to the top of the broccoli and pasta.
Using scissors, chop parsley into juices in skillet and boil juices for a few minutes. Pour over pasta, shrimp and broccoli.
Serves 4.
This recipe is part of our 28-day dinner game plan.  Click here for more information about this recipe book complete with weekly shopping lists and meal prep guides.
We have made it easy to save or share this recipe.  Click on any of the share buttons on the left, hover over any photo to save to Pinterest, or upload the photo below to Instagram or elsewhere.  🙂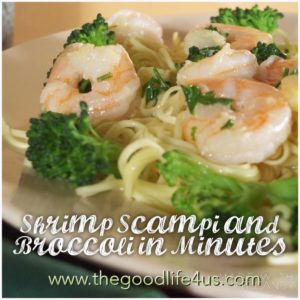 Marcy Vogler is a lifestyle makeover coach, personal trainer, and mother of three.  Marcy is passionate about helping women make over their lives from the inside out.  To learn more about the courses Marcy offers, check out our parter website at www.thegoodlife4u.club.  For daily inspiration, join Marcy's Facebook Group:  Love Your Day, Love Your Life.
(Visited 241 times, 1 visits today)