Mother's Day Gift Ideas from One Site and for Every Budget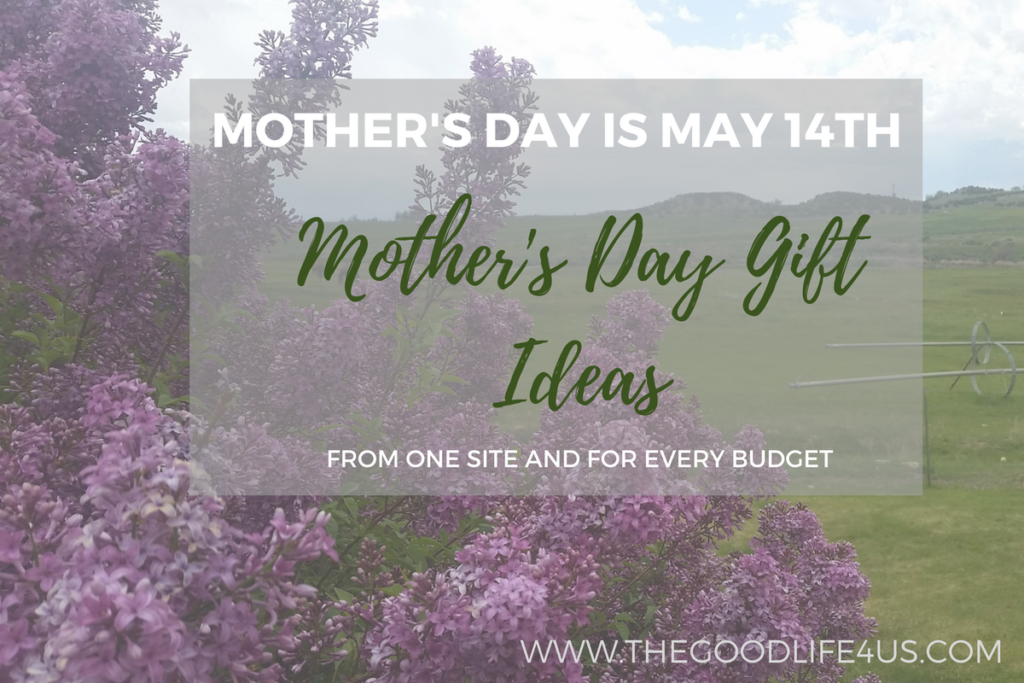 This is the guide you've been looking for . . . Our list of Mother's day gift ideas from one site and for every budget !!

We have curated the best of the best and found 28 gifts you might not have considered yet.

(NOTE:  This post contains affiliate links, which means that if you click on one of the product links and make a purchase, I may receive a small compensation.  Thank you in advance for any purchases you make through these links.  Know that your support is appreciated.)
Good Gifts 4 the Mom who Likes Easy:
Echo Dot

We have one and recommend them to everyone!  We have bought 8 for gifts already!  These are a lot of fun at a small price point (look for my LIVE video introduction).  With the command, "Alexa", you can voice control your music and smart devices, order products from Amazon or add to your shopping list, request a ride, order a pizza, hear the news, the weather, or even a joke.  My favorite feature is that you can set an alarm for in the morning without getting out of bed or even looking at your phone.     To buy:  $49.99, amazon.com

Travel Case for her new Echo Dot

Ya!  The Echo Dot is such a good gift they might just want to take it with them wherever they go.  I know on more than one occasion, someone in our family has said "I miss Alexa".

To buy:  $10.99, amazon.com



If mom likes "form" with "function" check out this Echo Dot station

I got one of these for Christmas and just look how cute it is!

To buy:  $22.99, amazon.com




Cord Keepers

Wrangle your headphones, charging cords,etc. in these cord keepers for easy transport and organization.

To buy:  $8.99, amazon.com



Good Gift 4 Mom's Car or Her Nightstand:

Tactical Flashlight

This is another one I buy a lot of, but who on your list couldn't use a flashlight that can shine up to 600 feet?

To buy:  $13.95, amazon.com

Good Gifts 4 the Traveling Mom:
Canvas Duffel Bag on Wheels

This bag is everything you would want in one bag.  Leather, canvas, copper, roomy, AND on wheels.

To buy:  $82.99, amazon.com

A Carry On Bag for Mom

Thick navy canvas with vegan leather trim in rose pink.  Rose gold hardware (and we all know this is the season of rose gold).  Multiple compartments and a handle to roll it.

To buy:  $79.99 plus shipping, amazon.com



Retro Canvas Leather Backpack

This backpack is durable and stylish.  Sized just right for a laptop and other essentials.

To buy:  $51.99 plus shipping, amazon.com




Luggage Tags

Unique design makes it easy to identify suitcases.  Faux leather for sturdiness.  Privacy flap for safety.

To buy:  $7.99, amazon.com



Good Gifts 4 the Foodie Mom:

Personalized Cutting Board

A good friend of mine introduced me to the magic of personalizing gifts and this maple cutting board is sure to please any mom on your list.

To buy:  $29.00 plus shipping, amazon.com

Cast Iron Pizza Pan

Evenly bake and heat your pizza with the authentic pizza flavor of cast iron.  Can even be used on the grill or over a fire.  This pan will become a kitchen staple.

To buy:  $32.99, amazon.com

Vintage Round Pitcher

This pitcher is another classic piece that will be used often and with care, for generations.

To buy:  $34.97, amazon.com



Apple Slicer and Corer

Our apple slicer gets almost daily use in our house and has done for over a decade.  Order this for any mom who eats apples, wants to eats apples, or has kids to feed apples to.

To buy:  $7.90, amazon.com



Good Gifts 4 the Health Nut Mom
Himalayan Salt Lamp

Heating the salt with a light bulb (included) releases negative ions into the air, purifying the air (similar to the air near the ocean or after a thunderstorm).

To buy:  $27.99, amazon.com



Smart LED Light Bulb

This Smartphone Controlled Light Bulb is a color-changing party bulb and also a Smartphone Controlled Sunrise Wake-Up Light.  This bulb will improve your mornings by simulating a natural sunrise.

To buy:  $34.00, amazon.com

Essential Oil Diffuser

I use my diffuser every night, also and it is an essential part of my wellness routine.  (You can read more of my tips for avoiding cold and flu here).

To buy:  $37.99, amazon.com
NOTE:  You will want to buy quality essential oils to go in this.  You can find them at most health food stores and also from independent direct sales distributors in your area (this has the added bonus of supporting people in your community - if you don't know any, ask on your local yardsale sites on Facebook).


Herb Scissors

Whether mom is a health nut (or foodie), she will think of you every time she saves time and hassle when chopping herbs or salad ingredients.

To buy:  $11.97, amazon.com



Good Gifts 4 the Beauty Queen Mom
12 Piece Makeup Brush Set

Essential brushes for applying liquids, powders, and creams.  Bamboo handles offer a quality feel.  (Tip:  Pair this with make-up bought from a friend in direct sales).

To buy:  $12.99, amazon.com

Double Layer Inverted Umbrella

Not only beautiful, but practical too.  You can open the umbrella as you open the car door and not get wet.  The handle makes it easy to multitask while holding.

To buy:  $27.49, amazon.com

Umbra Tesora Jewelry Box

Concrete and copper.  Two compartments to store bracelets, rings, and other small treasures.

To buy:  $27.00, amazon.com



 Sports Hair Ties

Ideal for extended all day wear with no crease, no damage, no pulling.  Great gift for swimmers, workout enthusiasts and anyone wearing a ponytail for a long time.

To buy:  $17.99, amazon.com



Good Gifts 4 the Professional Mom
Vintage Wood Mousepad

There are unlimited options for personalizing these unique mousepads.

To buy:  $5.29, amazon.com

Laptop Bag/Messenger Bag

Style an Function in this classic style with modern functionality.  Scratch Protecting Sleeve for Laptops up to 15.6"

To buy:  $69.99, amazon.com

Tablet/Phone Stand

This version is compatible with most smartphones and small tablets.  Charges device while watching.

To buy:  $8.49, amazon.com


Binder Clips

Binder Clips, Monogrammed Post-It Notes, so many fun ideas for gifts for mom.

To buy:  $5.54, amazon.com



Good Gifts 4 the Home Organizing Mom
Lotus Cotton Swab Holder

Keeps Q-Tips handy and clean.  Cute on the bathroom counter.  Can also hold toothpicks.

To buy:  $9.99, amazon.com

Toilet Tank Top Tray

This one might seem silly, but I used to have one and be asked all the time where I got it.  Bamboo.  Warm and sophisticated.  (Look at the pics on the website).

To buy:  $8.98, amazon.com

Good Gifts 4 The Hard to Buy For Mom
Rainbow Vision Sand Picture

I've known many hard-to-shop-for folks who were incredibly entertained by watching the falling sand create mountains, valleys, and dunes.  Order one for the hard-to-shop-for mom on your list.     To buy:  $89.95, amazon.com


Cable Style Dori Pouf

Whether used as an ottoman or additional seating, who wouldn't be delighted with one of these poufs?

To buy:  $59.99, amazon.com



That's it . . . all 28 gift ideas.  I hope you like this list as much as I do!

I really loved finding and curating this list of gifts for you and hope it serves you well.  Many choices are added because of years of watching the girls in my office choose gifts and hearing about the biggest hits among them, some are new and personal favorites.  I think all are sure to be enjoyed by the moms in your life.

Though I have listed here a number of options to spend money on, notice that none are over $100.  This is intentional.  I believe the spirit of giving is more about the thought and time with those you love than about the money you spend.  Whatever your financial situation, remember to respect your own budget and focus on what matters.

Also, when possible, please support your friends and family in their businesses, whether they have local shops or are craftsmen/women.    If your friends are in direct sales, try their lipstick, their shampoo, their face cream, their vitamins - you might just find a product you love, and many of their items make ideal gifts.  If your friends are photographers or calligraphers or computer techs, buy their services when possible.  It means more to them than it ever could mean to a big box company.  And thanks for supporting my little family with your purchases through my blog.  I truly appreciate each of you and any moms reading this a Happy Mother's Day!

Love,

Marcy

P.S.  If you do want to buy shampoos for mom, read my MONAT review here.

About Me:
Marcy Vogler is a lifestyle makeover coach, personal trainer, and mother of three.  Marcy is passionate about helping women make over their lives from the inside out.  To learn more about the courses Marcy offers, check out our parter website at www.thegoodlife4u.club.  For daily inspiration, join Marcy's Facebook Group:  Love Your Day, Love Your Life.