Hey, Gorgeous!
Are you ready to get compliments?
First of all, just look at my 60 day results from using MONAT Products: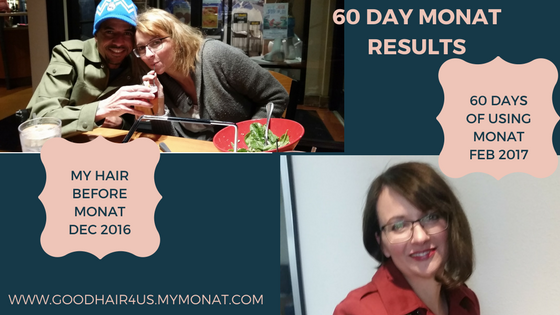 Yes, I dyed my hair during that 60 days, but for reals . . . can you see the difference in how healthy and shiny my locks are now? I can honestly tell you that I have never received so many compliments on my hair!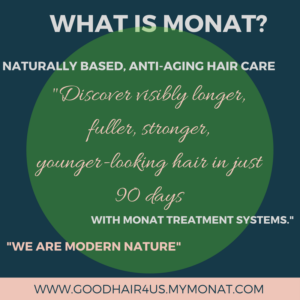 What is Monat?
The promise on the MONAT website says, "Discover Visibly Longer, Fuller, Stronger, Younger-Looking Hair in just 90 days with MONAT Treatment Systems." I'm excited to share my 90 day review of MONAT with you. After you read, click here and join my group:
WHY MONAT? Why I was drawn to the brand:
I was drawn to MONAT because it is naturally based. Can we talk more about this?
Are you aware of how many toxins are in our self-care products?
If you are an average woman, you use 12 personal care products and/or cosmetics a day, containing a total of 168 different chemicals. Men, while using fewer products, are still exposed to 85 chemicals daily. Teens use an average of 17 products/day and have even more exposure. The really scary thing about this is that this exposure occurs daily for a lifetime.
Consider that 60 percent of what we put onto our skin is absorbed into our bodies because your skin is your largest, and most permeable organ. Just about anything you put on your skin will end up in your bloodstream and distributed throughout your body. Once these chemicals find their way into your body, they tend to accumulate over time because you typically lack the necessary enzymes to break them down.
Of the almost 13,000 chemicals used in cosmetics, only about 10% are regulated. The FDA has the authority to regulate harmful ingredients, however they usually don't. Because the personal care industry is a $60 billion dollar industry, there is a lot of money being spent to keep it that way.
Do you question the ingredients in your products? People don't typically make the connection between what we put on our skin and our health, and therefore, our products are making us very sick.
The MOST hazardous chemicals in our personal care products:
A handful of the most hazardous chemicals are found in MANY personal care products and cosmetics. I challenge you to grab your personal care products and compare the labels to this list.
Paraben – (or anything that ends with paraben – like propylparaben, methylparaben, ethylparaben) mimics the action of the female hormone estrogen and drives the growth of human breast tumors. Many paragons have actually been banned in Europe.
Sodium lauryl sulfate – this is makes your product sudsy, and it's present in nearly all shampoos. The manufacturing process for sodium laurel sulfate results in contamination with 1,4 dioxane, a carcinogenic by-product. FYI: Carcinogenic means it has a potential to cause cancer.
Phtalates – linked to birth defects in the reproductive system of boys (often hidden on labels under the generic term "fragrance"
Methylisothiazolinone (MIT) – it's used to prevent bacteria and may have detrimental affects on the nervous system
Toluene – made from petroleum or coal tar and found in most synthetic fragrances and nail polish. Linked to anemia, lowered blood cell count, liver or kidney damage, and may affect a developing fetus.
We need to demand better.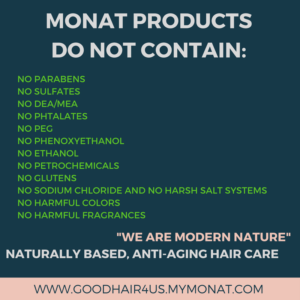 For a list of what ingredients make MONAT products perform better and also a list of why the ingredients in this graphic are on the "MONAT NO" list, go to the website: www.goodhair4us.mymonat.com
What does all of this mean for a health-conscious person?
The best thing that you can do is expose yourself to ingredients that you can pronounce. You can replace a lot of your lotions and treatments with a jar of coconut oil and a handful of high-quality essential oils. You can even use olive oil or coconut oil to remove your make-up. Whether you make your own products or switch to more natural brands, there are alternatives to the common, often toxic products that you're buying off the store shelves. You might even find that you like them better than your old brand, as happened with me and MONAT.
How I ended up trying MONAT:
I have been trying "natural" hair care products for almost two decades. When one ran out, I was always anxious to try a new one. I try to keep two options available because my hair doesn't ever like the same shampoo wash after wash, so I typically alternate every wash. My boyfriend and I live three hours apart, so I keep products at his apartment, too. I understand that it's much more expensive to buy healthy ingredients extracted from nature, than it is to buy barrels of synthetic compounds, so I'm accustomed to spending $20 or more for each bottle. When both shampoo/conditioner options ran out at both houses at the same time, I was in the market for approximately 4 bottles of shampoo and 4 bottles of conditioner, which was going to be a "serious investment".
That's about the time I started seeing my friend, Randi post about MONAT on her Facebook page. She shared a lot of testimonials that were honestly pretty unbelievable. I mean, I can believe that people were having results, but I was pretty skeptical of the "first wash" results.
How I found myself registered to sell MONAT:
So, there I was needing four bottles of shampoo and four bottles of conditioner when Randi messaged me. She offered me samples, but I declined as I have been "sampling" full-sized nature-based hair care products forever.
I didn't set out to sell Monat. In fact, I expected from my previous experience, that I would use the bottles and then begin a search for something new when they were gone. When I started looking into it, I decided to go with the business product pack at a cost of $299 for the savings. This choice gave me 40% off of $499 in product and also included a registration to be a Market Partner and sell the products at no additional cost, should I choose to do so.
Let's just say that I was surprised at the immediate results. Can you believe this?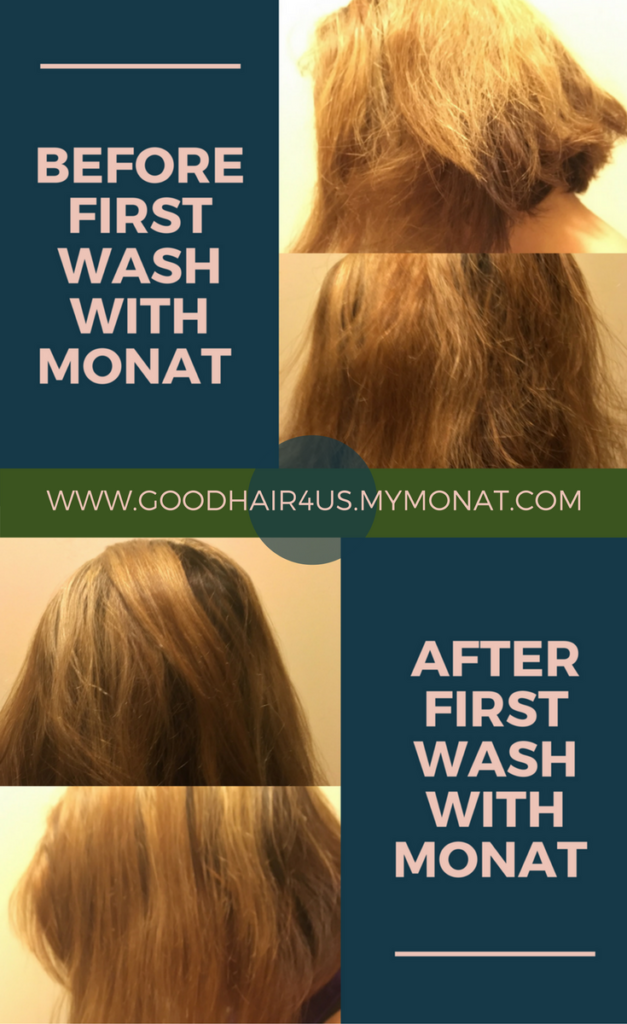 "MODERN NATURE
"Finally, hair care that truly cares for your hair. Through extensive clinical research, we have combined active botanical ingredients with state-of-the-art scientific technologies to deliver naturally based products that address the effects of the environment, chemicals, product overuse and — most importantly — hair thinning, hair loss and aging.
"MONAT's ingredients are naturally-based, safe, pure and sustainable. But with other brands recognizing the power of botanical oils, how is MONAT any different? The answer lies in our rich formulations that make these naturally-based ingredients work in harmony with each other, combining and reacting to pump up their natural properties to take MONAT to the next level."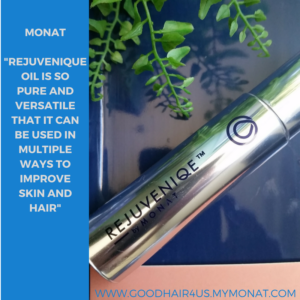 "REJUVENIQE™ Oil Intensive
"Is MONAT's invigorating proprietary blend of 11+ unique molecular ingredients, which includes vitamins, minerals, antioxidants, beta-carotene, omega-6 fatty acids, nutrients and amino acids, suitable for all skin and hair types. These ingredients have been proven to mimic the body's own natural oils to reduce hair thinning, prevent oxidative stress, and add volume and shine. REJUVENIQE's special properties energize and rehabilitate the scalp to visibly repair hair with instant and long-term Age Prevention benefits.
"All MONAT products are sustainable and naturally based. We have taken active botanicals and amino peptides that have stood the test of time, and combined them with modern technology to create our own proprietary blends of REJUVENIQE Oil IntensiveTM, Capixyl, Procataline and Crodasorb that combat the signs of aging and boosts the hair's natural growth, manageability and shine. MONAT's own patent-pending Oil Intensive, REJUVENIQE, combines 11 rare oils from around the world that mimic the body's own natural oils, and create the perfect healthful environment for all other products in our treatment systems to work more effectively."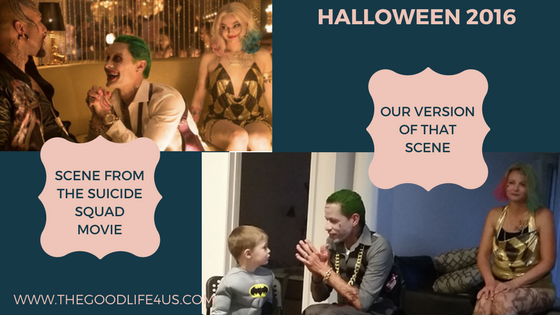 My 90 Day Review
Prior to MONAT, I had been bleaching my brunette hair out so I could be Harley Quinn for Halloween. Harsh, at-home color lifters had left my hair fried.
I have been using MONAT for 90 days and continue to see improvements in the texture, thickness, shine, and manageability of my hair. I look forward to washing my hair, though I don't need to do it as often since the greasy build-up I'm used to after 43 years of being me isn't happening. The products are so concentrated that I still have probably 2/3 of my product remaining. In conclusion, I have found something I love in MONAT and I intend to keep using these products!!
I'll see you over there!
Marcy Vogler is a lifestyle makeover coach, personal trainer, and mother of three. Marcy is passionate about helping women make over their lives from the inside out. To learn more about the courses Marcy offers, check out our parter website at www.thegoodlife4u.club. For daily inspiration, join Marcy's Facebook Group: Love Your Day, Love Your Life.

Related articles across the web
(Visited 2,639 times, 1 visits today)