Hey, Gorgeous!
If you've landed here, you probably already know what MONAT is and are considering buying it. You want to know what other people are experiencing before you make an investment in your hair. Am I right?
If you're not already familiar with MONAT, allow me to introduce you.
What is Monat?
MONAT is a line of naturally based hair care. The promise on the MONAT website says, "Discover Visibly Longer, Fuller, Stronger, Younger-Looking Hair in just 90 days with MONAT Treatment Systems". People are experiencing some pretty impressive results. For testimonials, join my FB Group: Good Hair 4 Us.
In this post, I will be breaking down for you:
why I tried MONAT
my first wash results
how I got my MONAT at 40% savings and how you can, too
(spoiler alert 😜) why I decided to sell it
how I can help you sell it, too (even if you sign up with someone else)
my 60 day results
which products are best for your hair type
my 90 day results
But first . . . I have a question for you?
Are you ready to get compliments?
If you answered "Yes!", "Hell, Yes!" or any variation thereof, allow me to offer you samples of MONAT products. Would you like to see for yourself how this shampoo and conditioner will feel in your hair before you buy? Then join my Facebook group: Good Hair 4 Us and request samples there.
Join my Facebook Group: Good Hair 4 Us
WHY MONAT? Why I was drawn to the brand:
I was drawn to MONAT because it is naturally based. Can we talk more about this? I actually wrote an entire post on the hazardous chemicals in our personal care products and why I care so much about it. (You can read that here if you're interested).
I have been trying "natural" hair care products for almost two decades. There have probably been around 15 different brands in my shower, that I have tried with varying results, but I was never blown away. Therefore, when one ran out, I was always anxious to try a new one. Such was the case when I saw my friend, Randi post about MONAT on her Facebook page. She shared a lot of testimonials that were honestly pretty unbelievable. I mean, I can believe that people were having results, but I was pretty skeptical of the "first wash" results.
As a professional in the wellness industry, I hate to admit it, but I often struggle to find the results I desire in natural products, so I wasn't expecting too much from MONAT. To my surprise, though, they actually work BETTER for me than anything I've previously used.
Are you ready for the review you came for?
My first wash results: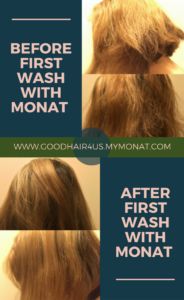 Wow, right?
I feel the need to explain! Prior to MONAT, I had been bleaching my brunette hair out so I could be Harley Quinn for Halloween. Consequently, the harsh, at-home color lifters had left my hair fried. I honestly thought it was beyond repair. Maybe you feel the same about your hair (or maybe this photo makes you feel better about the current state of your hair. lol).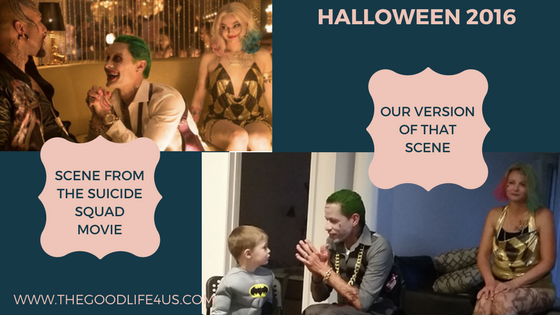 How I found myself registered to sell MONAT:
Because I was living between two homes, I was in need of four bottles of shampoo and four bottles of conditioner when Randi first messaged me about MONAT. She offered me samples, but I declined as I have been "sampling" full-sized nature-based hair care products forever.
I feel I should mention that the price didn't scare me and I don't think you should let it scare you either. You need to understand, as I do, that it's much more expensive to buy healthy ingredients extracted from nature, than it is to buy barrels of synthetic compounds. I was accustomed to spending $20 or more for each bottle of product I bought and feel it is worth it to know I'm making a healthy choice for me and for my family. That said, however, I'm always DOWN FOR A DISCOUNT! And I'll explain a good way for you to buy MONAT at a discount, too.
How I got my MONAT at 40% savings and how you can, too
I actually didn't set out to sell MONAT. Remember, I expected from my previous experience, that I would use the bottles and then begin a search for something new when they were gone. When I started looking into it, though, I decided to go with the business product pack at a cost of $299 for the savings. This choice gave me 40% off of $499 in product and also included a registration to be a Market Partner and sell the products at no additional cost, should I choose to do so.
If you are thinking about really giving these products time to work their magic, I would recommend you go this route, also. A good way for you to get this discount without the investment is to split the cost between friends, siblings, etc that want to try it. (Just decide beforehand to do it under the name of the one who might want the option for a home-based business).
Why I decided to sell it for reals:
So, it turns out that in addition to having products that are naturally based and also offer superior results, MONAT has an amazing compensation plan. A lot of my friends are wildly successful with this business. Maybe it seems like a lot of yours are, also. Are you thinking about selling it, too? Allow me to convince you (like I said before, whether or not you work with me, MONAT might just be an amazing choice for YOU).
A few factors that I think really sell these products:
✅ Haircare products are consumable – meaning people will be using them up and needing more for . . . ever. Wash, rinse, repeat until your last day.
✅ People are already washing their hair. You're not asking them to add something to their routine that they're not already doing (that said, with these products there are a few key differences – like using less product, leaving it on longer, and needing to wash less often – YAY!)
✅ Anti-aging is a huge industry and MONAT is a part of that. Who doesn't want to have fuller, thicker hair for longer?
✅ People want to look good and hair is a lot of people's beauty battle. MONAT has products to fix problems like frizz, split ends, and chemical damage.
How I can help you promote MONAT even if you register with someone else.
First of all, I want to affirm to you that a home-based business is where it's at. You have made an awesome choice. Joining my first MLM over 2 years ago (not MONAT), I have received a paycheck almost every week since. I hesitated for a long time, but once I took that leap, I never looked back.
There was struggle, however, with how to go about promoting effectively online once my friends and family were signed up. I've now spent over $7,000 and countless hours trying to figure out how to do better. I have learned so much that I now offer a course to teach people like YOU everything I've learned so far. (Don't worry! You won't pay anywhere near what I did for this information. In fact, if you do register with me and buy a product pack, just send me a copy of your receipt and I'll give you this course for less than $100). 😉 WOW! I know. Check out the course here:
60 Day Results
Will you just look at my 60 day results from using MONAT Products: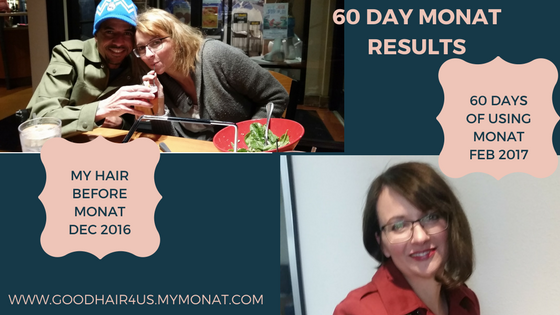 Yes, I dyed my hair during that 60 days, but for reals . . . can you see the difference in how healthy and shiny my locks are now? I can honestly tell you that I have never received so many compliments on my hair!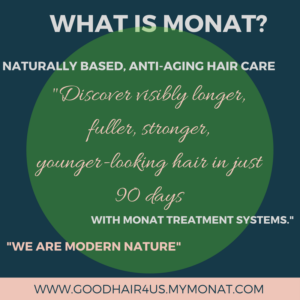 I'm excited to share my 90 day review of MONAT with you. When you're done reading, click here and join my group:
Which MONAT products are best for you?
MONAT actually has a quiz on their site to help you decide which products are best for you. The link for that is: http://monatglobal.com/find-your-personal-hair-solution/.
Also, if you join my Facebook group, you can ask me anything about MONAT over there.
My 90 Day Review
I have been using MONAT for 90 days and continue to see improvements in the texture, thickness, shine, and manageability of my hair. Washing my hair has become something I look forward to. Though I don't need to do it as often now (the greasy build-up I'm used to after 43 years of being me isn't happening). The products are so concentrated that I still have probably 2/3 of my product remaining after months of use. In conclusion, I have found something I love in MONAT and I intend to keep using these products!!
I'll see you over there!
Still need more info? I'll conclude with quotes straight from the MONAT website:
"MODERN NATURE
"Finally, hair care that truly cares for your hair. Through extensive clinical research, we have combined active botanical ingredients with state-of-the-art scientific technologies to deliver naturally based products that address the effects of the environment, chemicals, product overuse and — most importantly — hair thinning, hair loss and aging.
"MONAT's ingredients are naturally-based, safe, pure and sustainable. But with other brands recognizing the power of botanical oils, how is MONAT any different? The answer lies in our rich formulations that make these naturally-based ingredients work in harmony with each other, combining and reacting to pump up their natural properties to take MONAT to the next level."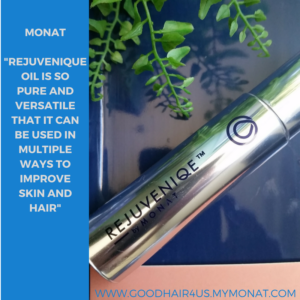 "REJUVENIQE™ Oil Intensive
"Is MONAT's invigorating proprietary blend of 11+ unique molecular ingredients, which includes vitamins, minerals, antioxidants, beta-carotene, omega-6 fatty acids, nutrients and amino acids, suitable for all skin and hair types. These ingredients have been proven to mimic the body's own natural oils to reduce hair thinning, prevent oxidative stress, and add volume and shine. REJUVENIQE's special properties energize and rehabilitate the scalp to visibly repair hair with instant and long-term Age Prevention benefits.
"All MONAT products are sustainable and naturally based. We have taken active botanicals and amino peptides that have stood the test of time, and combined them with modern technology to create our own proprietary blends of REJUVENIQE Oil IntensiveTM, Capixyl, Procataline and Crodasorb that combat the signs of aging and boosts the hair's natural growth, manageability and shine. MONAT's own patent-pending Oil Intensive, REJUVENIQE, combines 11 rare oils from around the world that mimic the body's own natural oils, and create the perfect healthful environment for all other products in our treatment systems to work more effectively."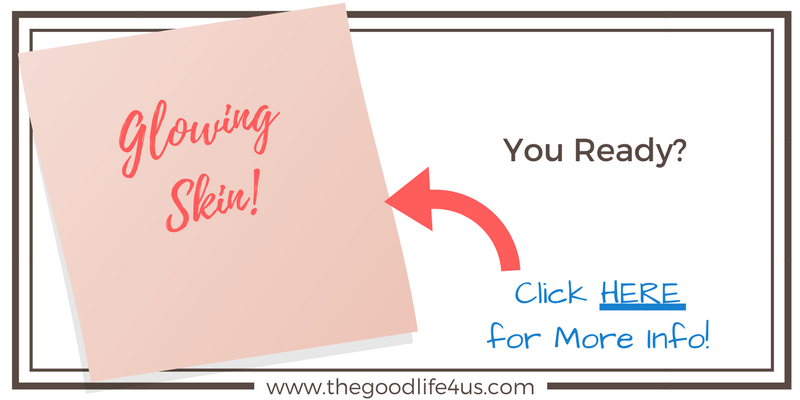 Marcy Vogler is a lifestyle makeover coach, personal trainer, and mother of three. Marcy is passionate about helping women make over their lives from the inside out. To learn more about the courses Marcy offers, check out our parter website at www.thegoodlife4u.club. For daily inspiration, join Marcy's Facebook Group: Love Your Day, Love Your Life.

Related articles across the web
(Visited 8,014 times, 1 visits today)